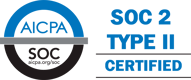 SOC2 Type II - Aprimo certifies its services annually to meet AICPA SOC 2 Type II, successfully auditing the operational and security processes and controls of our service and our company.

GDPR - Aprimo operations and systems meet GDPR requirements and further ensure customers are able to meet their requirements to reduce any associated risk from data within our systems.

Privacy Shield – A framework for complying with EU General Data Protection Regulation (GDPR) requirements.

TRUSTe Privacy Verified Seal – Verified responsible data collection and processing practices consistent with regulatory expectations.